International support and Localizations Management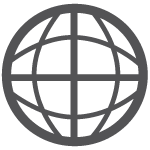 Go Global !
Languages, currencies, taxes, delivery, Magelia WebStore was designed with the international seller in mind.
An innately international solution

Why limit yourself to a national market when you can sell your products worldwide?

With Magelia WebStore, go global but at your own pace by progressively adding new countries, languages, and built-in currencies.

Speak their language and boost your sales!

Many e-commerce solutions only allow a single language per country.

With Magelia WebStore, offer a site in English and in Spanish in the United States, a site in English and French in Canada, a site in Traditional and Simplified Chinese in China, etc.

Show prices in local currencies

International rules and taxes

When selling abroad, tax rules can be complex.

Magelia WebStore lets you define multiple taxes and precise tax zones.

International Shipping

You sell in the U.S. but do you ship to Hawaii or Alaska?

You sell to Spain, but do you ship to the Canary Islands, the Balearic Islands, Ceuta, or Melilla?

With Magelia WebStore, manage international shipping zones and exceptions with precision.